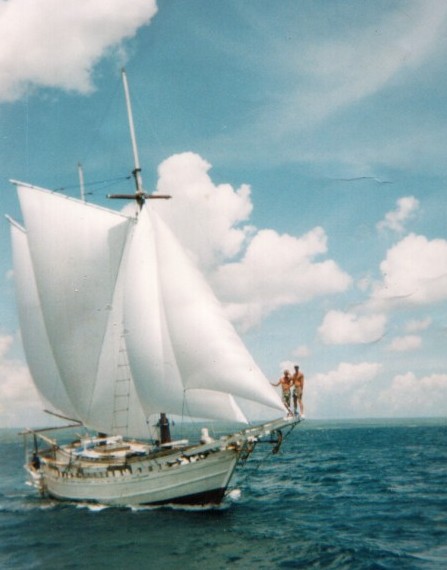 Pinisi Spice Island Cruises
Cruising the islands East of Bali
with traditional Buginese schooners
Full Diving Equipment on board
July & August 2003 - Special Anniversary Offer

Spice Island Cruise on chartered classic 26m Pinisi 2-masted Sailboat Ananda,
3-6 days, island hopping, diving & snorkeling, Beach Parties....
Join the trip - only US$ 50 passenger/day: call André +62 818 354-661

Special@ BaliDivers.com
These leisurely cruises through the famous "Spice Islands" on board of traditional Buginese "Pinisi" schooners offer a unique way to catch a glimpse of the real Indonesia by visiting regions hardly ever seen by the rest of the world.
The vessels used for these "Pinisi Sea Safaris" have been specially built and offer comfortable accommodation for 6 to 24 or even over 30 passengers. With comfortable cabins, expert crew, and Western guides, Pinisi cruises offer small groups of adventurers an experience which is totally different from a journey on a modern cruise ship.
The traditional Buginese schooners (locally called "Pinisi") have been a familiar sight in Asian waters for many centuries. Early visitors to this part of the world reported seeing large fleets of these sailing ships carrying cargo from New Guinea to as far away as China.
The Pinisi has a remarkable appearance: a bit similar to a Chinese junk with a tilted bow, these vessels have usually two masts with sails and top sails, and three jibs. In earlier days the most distinctive part of the Pinisi were the rudders. Instead of one rudder, two rudders alongside the vessel were used, and each rudder was controlled by its own helmsman.
Even nowadays new Pinisis are still built entirely by hand and without the help of a single piece of paper -- relying totally on the ship builders' knowledge and experience which have been passed on for generations from father to son.
The vessels used for these Sea Safaris have been specially built and adapted to the needs of the modern adventure traveller while still maintaining their original appearance. Although there are small variations in the furnishing of each Pinisi, you can always expect 4 to 12 or even 16 twin cabins with or without air-conditioning, a wardrobe with a lock and a wash basin in each cabin, a minimum of three showers/toilets for passengers, and a lounge with TV.
There are extra sleeping facilities on deck for all passengers in addition to those in the cabins, 220 volt electricity supply, and snorkeling gear. The vessels are equipped with all necessary navigation and radio-communications equipment, plus modern safety gear.
During these Pinisi Sea Safaris the vessels are staffed by a crew of 8 to 14 experienced sailors and kitchen staff, and the passengers are looked after by two pursers, a room boy, and one or two English speaking Western tour guides. Although not comparable with the luxury of today's cruise liners, these small schooners provide a comfortable environment for small groups of adventurers to experience remote places which are hardly ever visited by foreigners.
The passengers' "home" during these journeys is the ship, and informal but basically Western standards regarding dress, schedules, and manners are applied on board. However, when going ashore we are visitors to a different world and behave in a more "Indonesian" manner i.e. according to local customs and believes to make the contact with the local population easier.
Days are spent on shore excursions visiting places where nobody else goes, swimming, or snorkeling (diving with an experienced guide can also be arranged). You will set foot on tiny untouched islands, discover colourful coral reefs and rare marine life, watch exotic wildlife, and experience local customs and cultures. On returning to the ship you can relax, and you can discuss the impressions of the day with your fellow passengers. Or just laze in the shade of the huge sails, feel the rhythm of the ocean, and listen to the waves and the wind. In the meantime, a delicious dinner is prepared in the kitchen, and the anchor will be weighted for the departure to the next destination.
As these Pinisi sea safaris to remote places attract a very special group of like-minded adventurers, personal contacts and interaction with fellow-travellers are much more rewarding than on large cruise ships. You can look forward to an experience you'll never forget, and perhaps to making new friends for the rest of your life.
All meals (as well as coffee, tea, and drinking water) during your journey are included in the fare. Breakfast will consist of toast, coffee or tea, and for instance an omelet, pisang goreng (fried banana), pancakes, or fruit salad. Lunch can be a light meal such as soup with bread and salad, nasi goreng (fried rice), or fruit. Dinner is an Indonesian buffet with a number of dishes in which variety plays the major role. Meat, fish, chicken, shellfish, and tofu take turns on the menu, supplemented by fresh vegetable, krupuk (Indonesian shrimp crackers), and fruit. All ingredients are usually bought fresh on the local markets on route. On days we cannot go ashore to buy fresh food we can rely on the supplies in the deep freezer.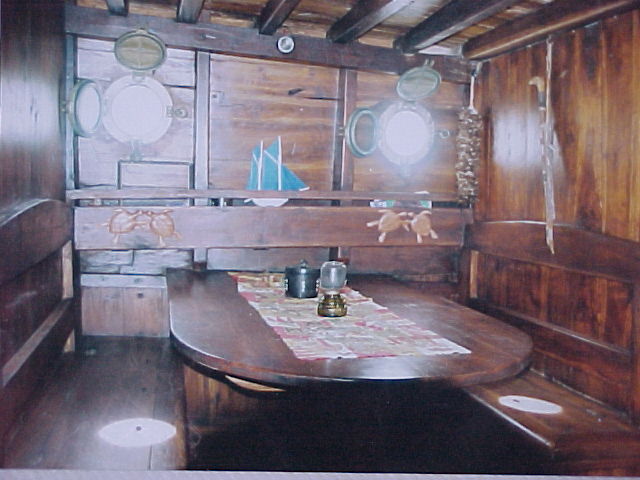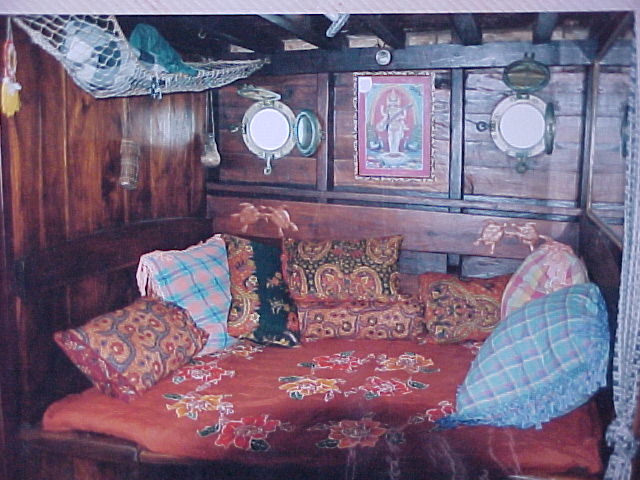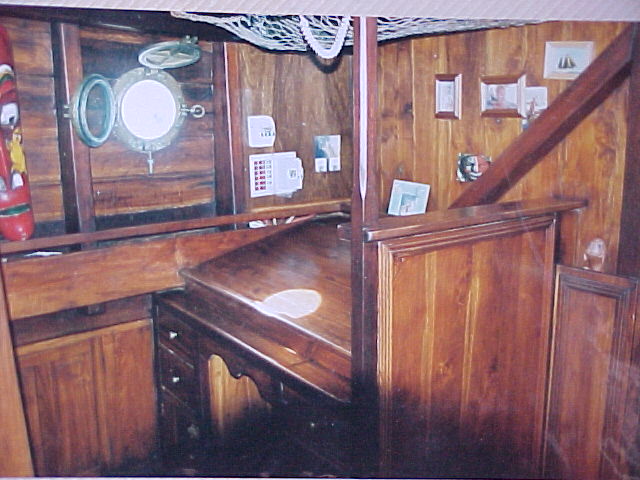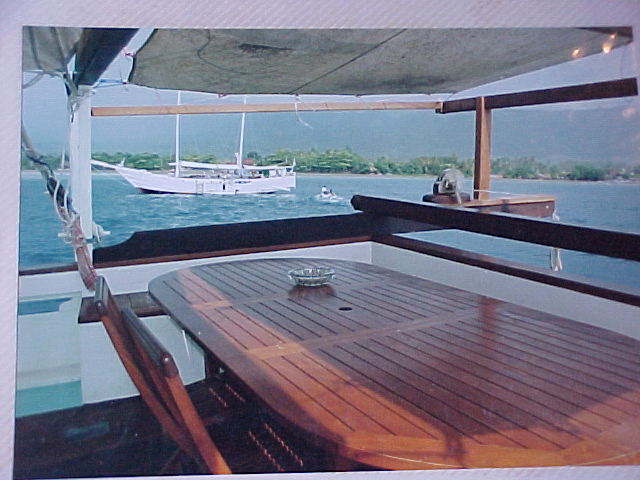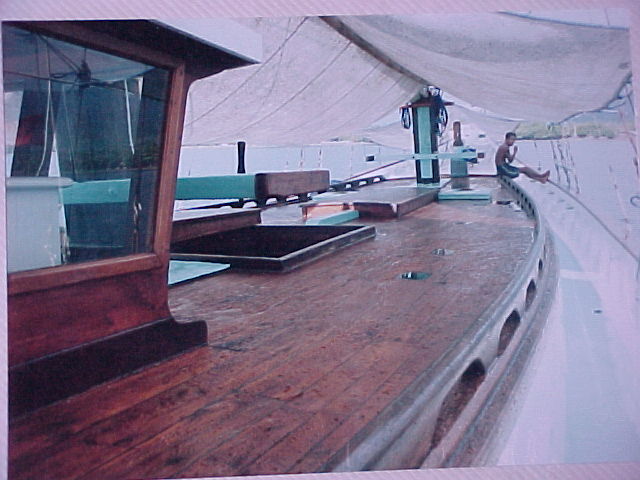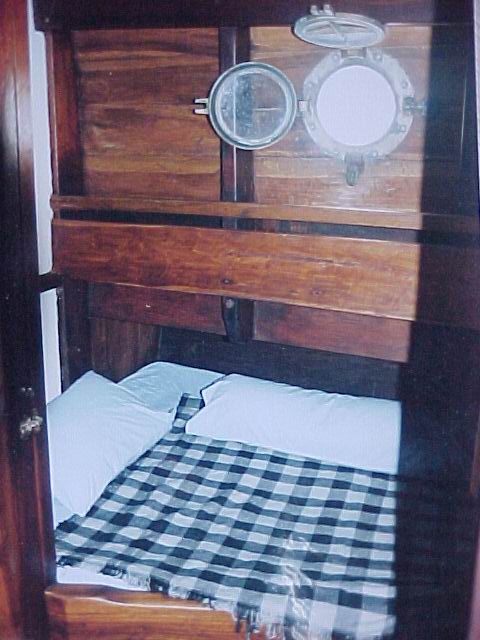 A few Notes:

Pinisi Sea Safaris are not sailing trips. As a Pinisi under sail will only make two or three knots (nautical miles) per hour, we will use the engine during most of the journey. This is the only way to keep up with our schedules and visit many different island within a few days.
Pinisi Sea Safaris cannot be executed minute by minute to schedule. Sometimes the published schedules will be adapted to a given situation or to special requests by passengers. Reasons for this might be a visit to an interesting ceremony such as a wedding, a funeral, or a harvest celebration. These unique events cannot be foreseen and programmed, and they will make an ordinary day often very special.
On the other hand, it may happen that the authorities in a harbour are working slowly or that the ship has to take in oil or water in a different harbour than planned. You will also experience the Indonesian "jam karet" (rubber time) or unfavorable winds and currents. All these can change the original schedule.
Therefore, you will enjoy these journeys most if you have a relaxed attitude towards travelling and are happy to surrender to the rhythm and manners of Indonesia.
---
2-Day to 10-Day South Seas Cruises (year-round)
through the Lesser Sunda Islands, Sulawesi, and the Moluccas.
7-Day and 8-Day Dragon Island Cruises (year-round)
from Bali to Komodo and back.
Charter a traditional Buginese Pinisi schooner (see some of the vessels) with 3 to 16 twin cabins, experienced crew, and a Western tour guide, and then choose your own routing. You'll be surprised – the cost is only around US$100 per person per day including full board, all shore excursions and other activites during your cruise. Please send inquiries (with dates, number of passengers, preferred routing, etc) to Charters@ BaliDivers.com .
---
Charter a traditional Bugis Pinisi schooner with expert crew and Western tour guide for charter cruises from Komodo or Bali through the Lesser Sunda Islands, to Sulawesi, and through the Moluccas.
Charter rates include all meals and soft drinks during your cruise as well as shore excursions and the services of the crew and tour guide. Air fares, any accommodation ashore, and insurance are NOT included. Please note that charter rates may vary depending on your routing and special requirements. As a rule of thumb, calculate US$100 per person per day including everything. That's much less than you'd spend in a good hotel in Bali!
In most cases there is also a one-time "mobilisation fee" of US$1,000 to US$2,500 depending on your port of departure and where the vessel is located right before your cruise. Other extra costs are for scuba diving equipment and a diving guide if required.
Itineraries depend on your personal interests and on how much time you can spend cruising. If you have several weeks you can visit Komodo and Rinca islands for watching fierce dragons who have survived only here from the Jurassic age, Flores to see the three-coloured crater lakes, Sumba, Timor, Sulawesi, and various islands in the Moluccas. If you can spend only a few days, sail to Nusa Penida and Nusa Lembongan, the Gili islands, and Lombok. You'll make your own schedule, or go with no schedule at all.
See here some of the yachts and traditional Buginese schooners you can charter with expert crew and tour guide for your voyage:
Our Flagship:
Ananda
Details & Facilities
Basic Charter US$ 800 per day.
New 26m tradional Pinisi Schooner, satellite navigation, top-of-the-range fish finder, sonar, and diving equipment.
Maximum 12 passengers.
---
[Domain Names] [Web Hosting] [Resources] [Client Support] [Partners] [Web Estates]
---
BaliDivers.com is powered by CandiNet
80361 Kuta, Bali & 20144 Hamburg, Germany
Phone: Bali +62 (0)8133 844-1416 - Germany +49 (0)178 145-3136
Yahoo MadeSambu - Skype Harry.Bleckert - MSN MadeSambu
last update for this page: Tuesday, 06-Sep-2005 17:26:18 GMT
This page (/index.html) counted 15 visitors today and 14,117 views since 10.09.2002
17 pages were viewed on BaliDivers.com today and 21,859 total pages since 10.09.2002 03:54:24

© 2005 by CandiNet